Host engaging and immersive events
FeelitLIVE's virtual venue has been developed with a unique user-centric approach so that your choir can showcase its talent while allowing your audience to actively participate, making it an unforgettable experience for everyone.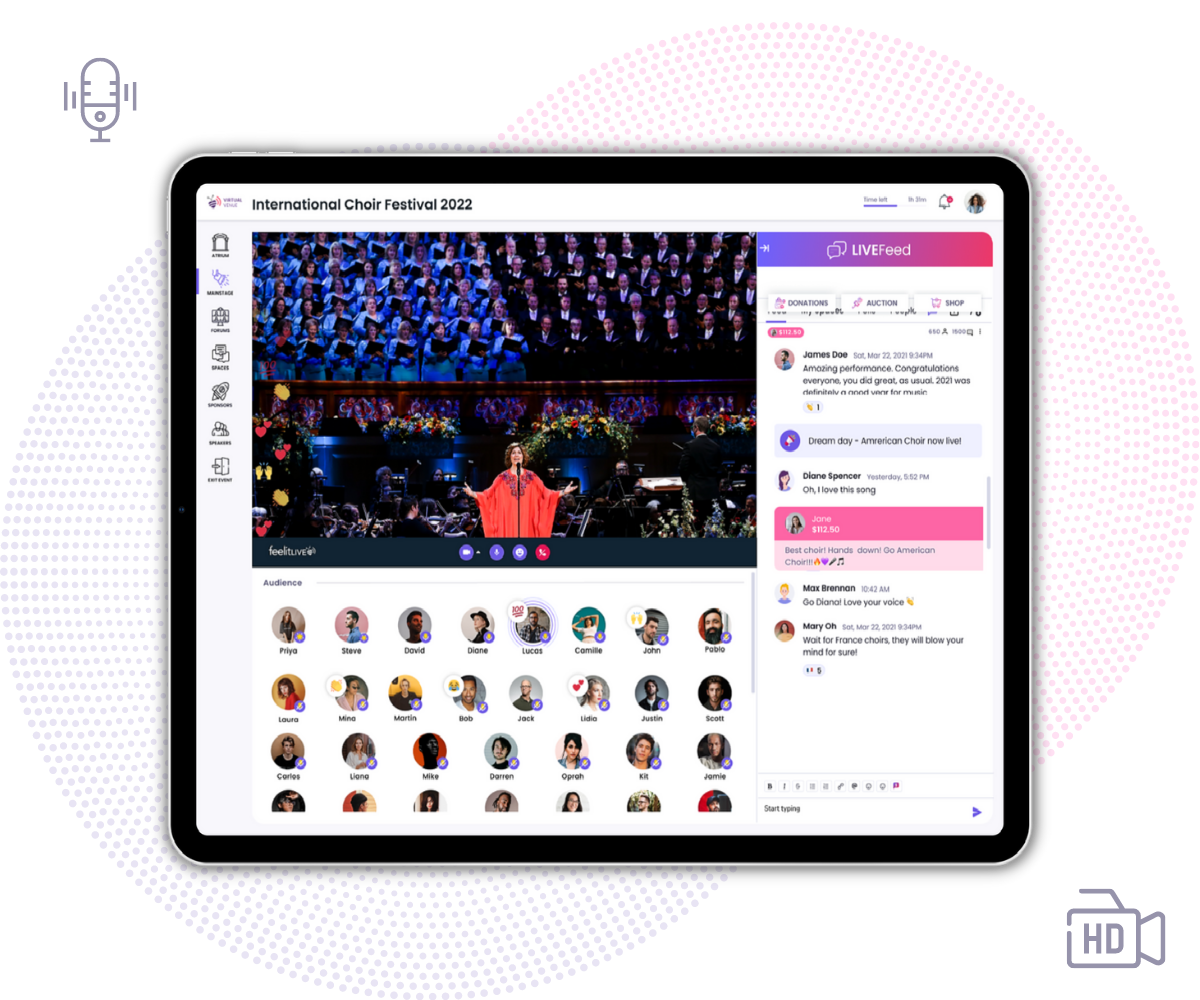 HIGH DEFINITION
Built for musicians and artists
At FeelitliVE we make sure you always enjoy high-quality video and sound experiences. Whether you're live streaming or chatting with your audience -you'll never want to go anywhere else for fear of being disappointed.
INTERACTIVE
Spark real engagement
FeelitLIVE's virtual venue enables you to create endless opportunities for you to connect with fans. Whether chatting through the live feed and private spaces, engaging with fans through polls and gamification, or creating seamless video interactions and exciting live auctions, you will have everything you need to keep them engaged.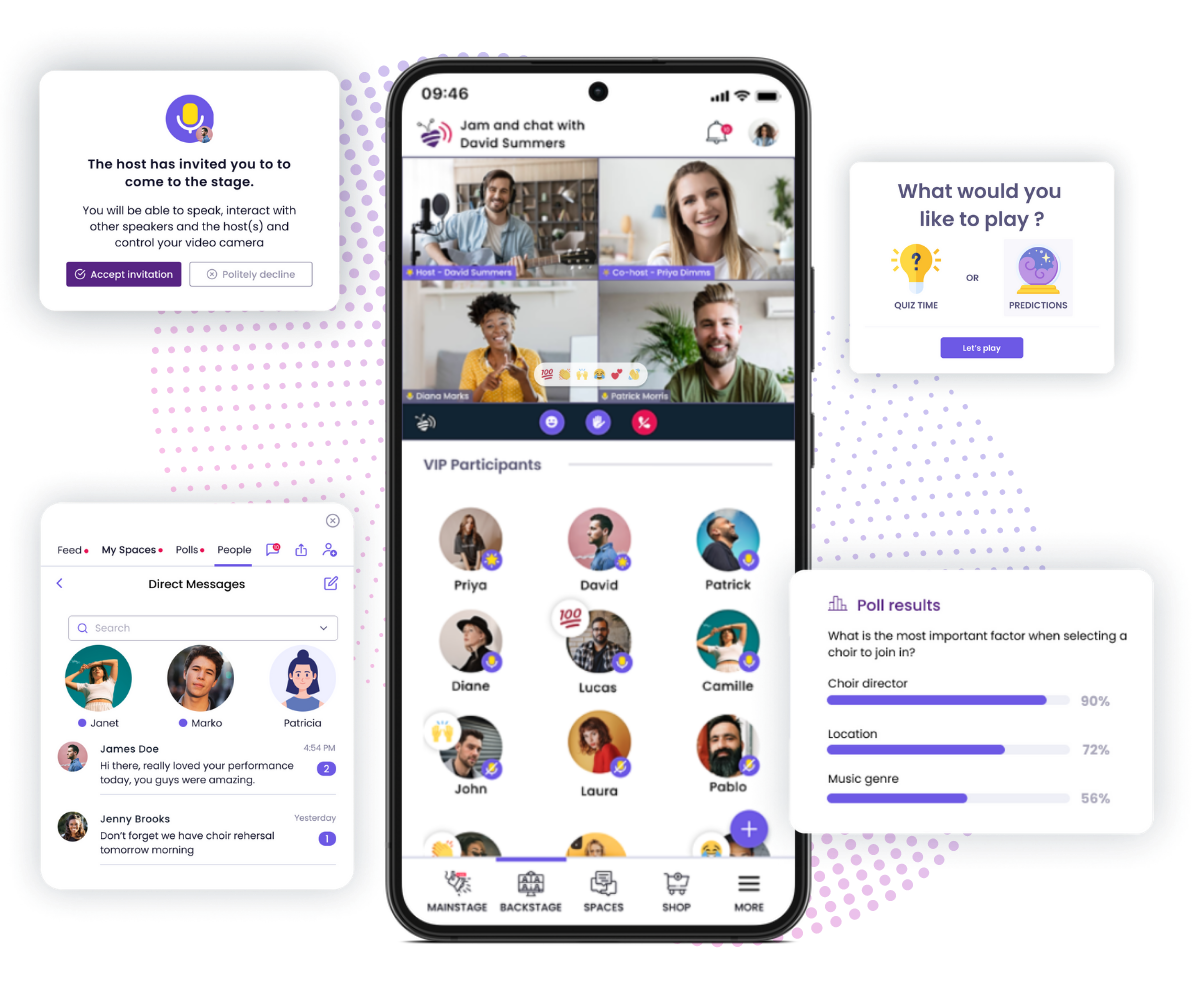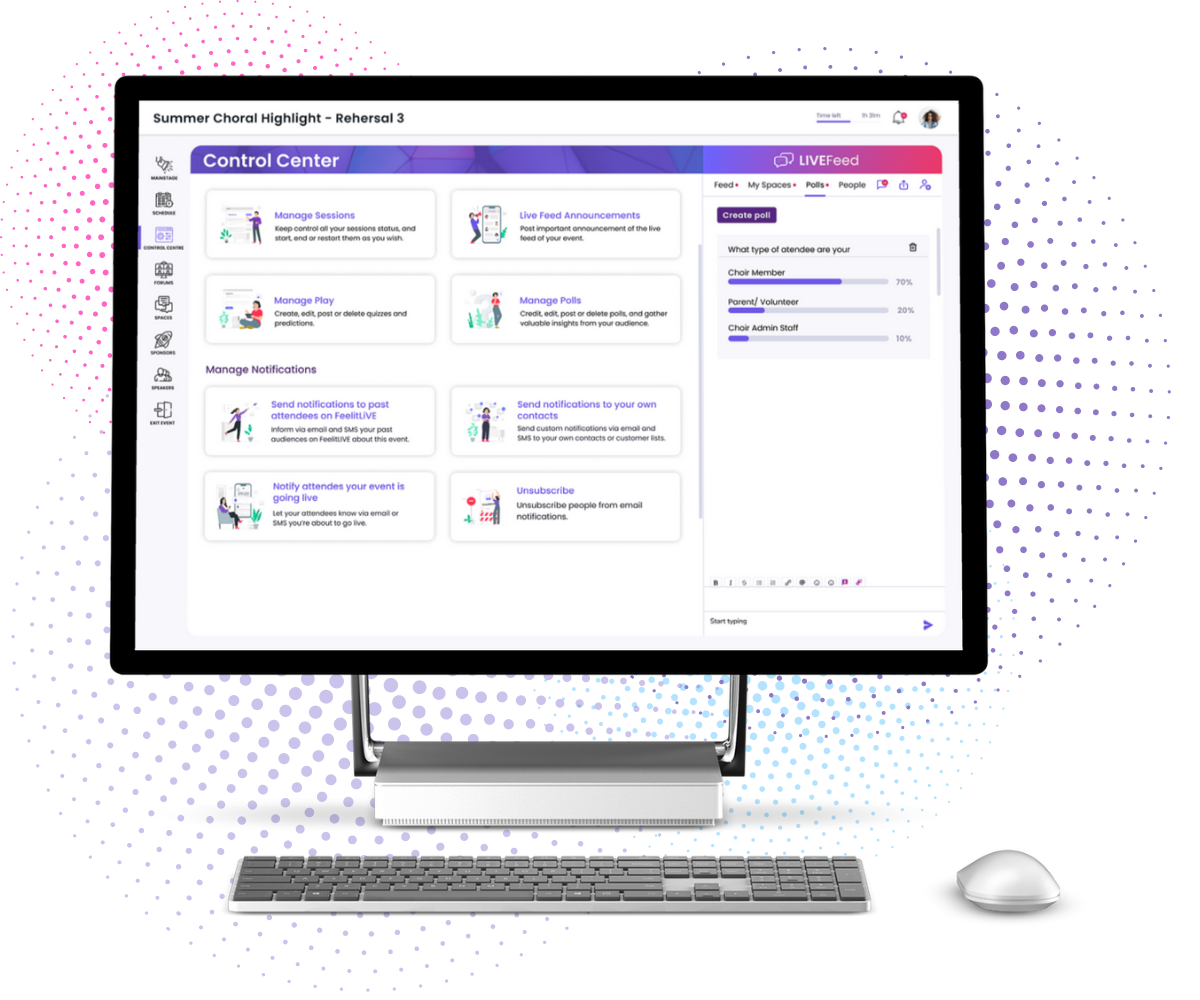 HASSLE-FREE
Take full control of your event
FeelitLIVE makes it easy to manage your live event, right from the virtual venue. Use the green room to connect with your speakers before going on air, add new speakers or sessions, pull audience members to the stage, create polls or games, and send notifications and announcements - all in one place.
POWERFUL FEATURES
The right tools to make
every choir experience a total success
Live feed
Chat with your attendees and push announcements without disturbing the show
Private spaces
Enable attendees to create private rooms to chat with friends and family
Emoji reactions
Enable your audience to show how they feel about your content in real-time.
Polls & games
Get insights from your audience and boost participation through interactive games
Drop-in video
Empower your attendees to video interact in real-time with hosts and special guests
Green room
Check sound and video with your hosts and speakers before going live on stage
Donations
Enable your attendees to donate to your preferred cause or organization
Live auctions
Add fun and excitement to your conference or expo while adding another revenue stream
Sponsors
Give your sponsors higher visibility by allowing them to showcase their brand
E-store
Enable your attendees to buy your merchandise pre, during, and post-event
Upgrades
Allow users to upgrade tickets during an event and without having to leave the virtual venue
Control Center
Keep control of your sessions and the broadcasting of content in one single panel
One platform for all your choir's needs